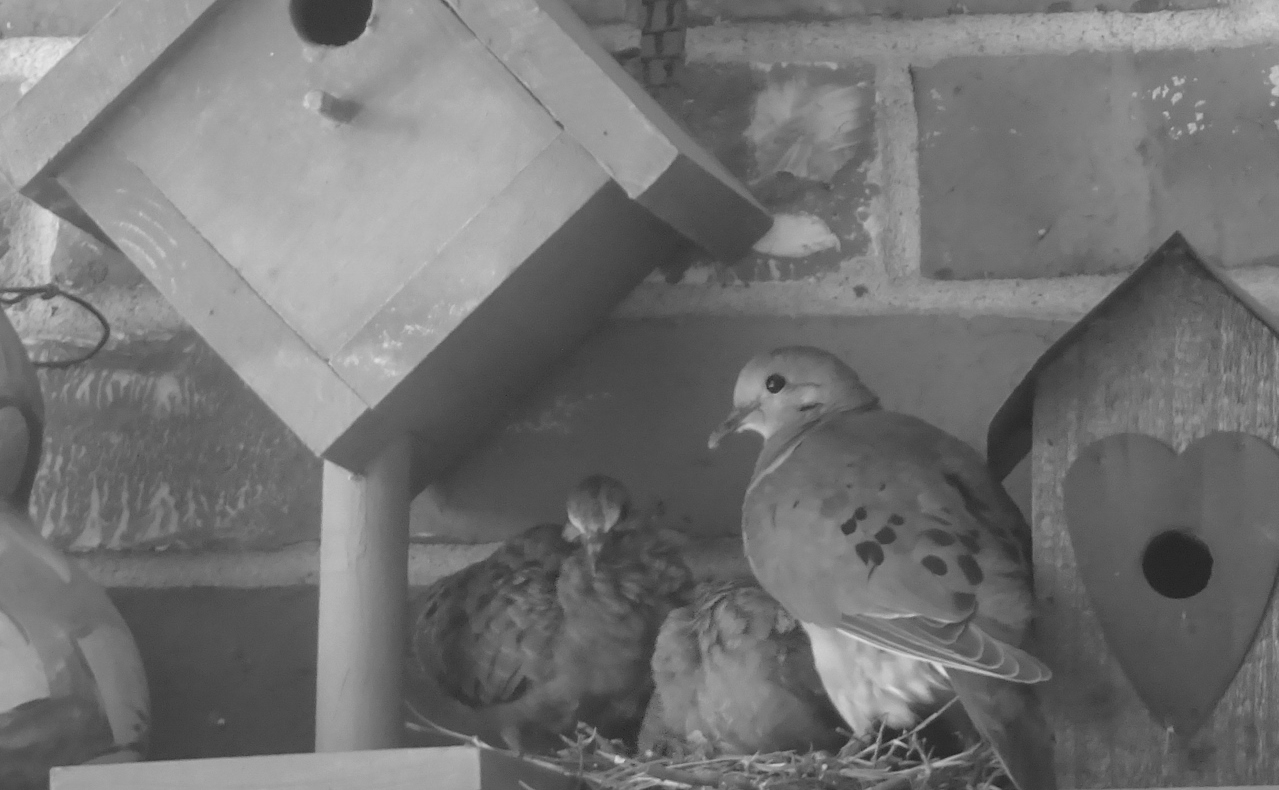 Birds of a feather flock together. – English  proverb
One of the best parts of summer is flying school, Not for me, of course, for birds. This summer we had a family of crows on our street for the first time.
As neighbors, no one liked them because they made so much noise. But they were such fun to watch.
Crows, even baby ones, are characters. They don't seem afraid of anything and their presence anywhere eliminates other birds, squirrels and even kids. Though the crows made their home across the street, flight lessons were in our back yard. I loved watching those big babies pace back and forth across the fence while their parents encouraged them from the trees with whistles (and sometimes a shove). I loved witnessing those first graceful glides to the ground, then the pacing and chatter as they tried to figure out how to get back to the fence.
One afternoon, long after we had seen any sign of the crows, my cat Maggie and I were in the back yard when an obnoxious squawking came from the wax myrtle.  Several yards away, two tiny wrens paced back and forth on the fence. With Maggie in sight, their parents' melodic encouragement had turned to alarms of danger.
Because my cat is afraid of everything, I knew she posed no threat. But, as the noise continued, a baby crow appeared on the other fence.  He paced and squawked like the wrens. And when Maggie didn't budge, the baby crow dipped down into the yard and buzzed the top of her head.
As she jumped up and ran to the back door, all I could think was 'Wow'.  I just witnessed a baby crow save baby wrens from my cat. He showed up to rescue someone who was not even a member of his family.
But while I was entertaining this fantasy-and before the terrified Maggie could get inside- the wren parents dropped from the tree like angry pirates and chased the baby crow to the next street!
Though they were clearly in his debt, there was no respect for the little crow at all.
What was going on here? Why were the wrens so angry with this super hero?
Had the wrens been so afraid that when the crow came into the picture he became a threat, too? This was a first for me. Was there an order among birds for protecting the young?
Or were they just angry when they were robbed of their job?
My uncle once told me a wonderful story about his mother. When he was about six, his mother asked him to stay on the porch with his baby sister while she went into the yard to hang laundry on the clothesline.
About two minutes into his boring chore of watching someone who could only crawl around and cry, my uncle climbed off the porch and took off to play in the yard.
When his mother spotted him, she screamed for him to return to the porch. Knowing he was already in trouble, he decided to make another bad choice and took off running.
Because his mother had to first retrieve his crying sister from the porch, my uncle figured he had plenty of time to get far away.
He remembered how scared he felt running through the grass and through the neighbors' yards, looking back now and then to see his mother (crying baby on her hip), still running and shouting threats at him.
As his mother began to lose her battle with his speed, my uncle caught the eye of a neighbor woman in the yard ahead of him. Thinking she might feel sorry for him, he headed her direction. Instead of protecting him, she stuck her foot in front of him and tripped him.
He fell flat on his face in the neighbor's yard while the old woman called out to his mother, "Here he is. Come on over here and whoop him."
By the time my uncle raised his head out of the dirt, his mother was straddling him, baby sister still in her arms.
He couldn't believe that neighbor woman had just served him up to his mother.
His mother lifted him by his shirt from the ground, then swatted him on the behind. "Get on home," she told him, "and wait for me on that porch".
As he walked slowly back to the house, where he felt sure he would be beaten to death, he turned to see his mother standing toe-to-toe with the neighbor. Her finger was pointed in the neighbor's face.
"Don't you ever lay a hand on my boy again," she was saying.
And then my uncle knew he'd better run.
Maybe the wrens weren't afraid at all. Maybe she was just mad. Maybe a hen is a hen, no matter her skin.
How about you?
Have you ever  seen a protective side of a family member that made you a little afraid?
I'd love to hear it!